Wingfoil World Tour
di: Redazione
Balneario beach in Tarifa is the chosen location for this final Wingfoil World Tour event of 2020, with 19 men and 4 women from 9 different countries ready to battle it out on the water.
What better place to end the 2020 season than in Tarifa, the wind capital of Europe. Balneario beach is an optimal spot to host this event, with the conditions looking promising for the next four days. Many precautions have been taken to ensure a safe event for all of the athletes and crew, with PCR tests done by all participants before entering in the event bubble.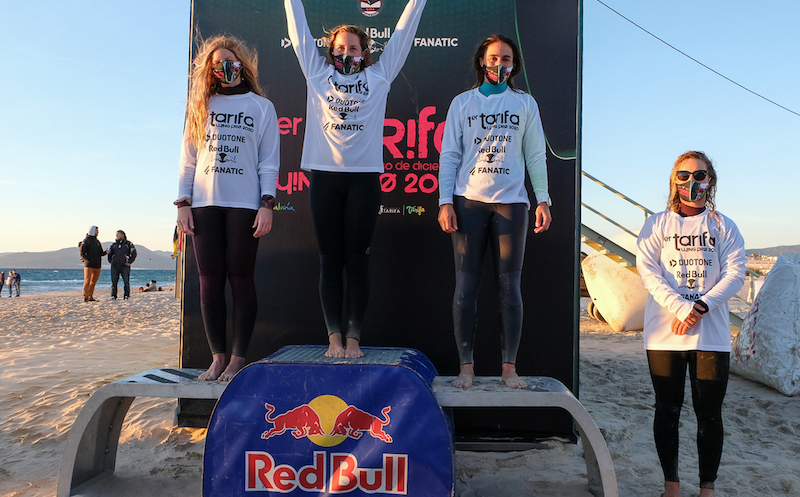 The wind today shifted from levante to poniente as predicted. Monday shows strong poniente averaging 25 knots, shifting to a more southerly direction in the afternoon, which could bring some rain, and a heavier swell. Tuesday and Wednesday also look consistent with poniente winds.
At 16.30 the wind conditions improved, with a steady 13 to 15 knots of poniente. The first heat on the water was Olivia Piana from France up against Eva Ensis from Switzerland. Eva showed some impressive tricks including a backwing 360 giving her the advantage over Olivia, and earning her a spot in the final.
The second heat of the day was Paula Novotna from the Czech Republic facing Swiss rider LauraRudolph. Paula unfortunately missed her heat, giving the advantage to Laura. The Swiss rider showed plenty of talent performing an air 180 amongst her tricks. She advanced to the final to face Eva Ensis.
Laura Rudolph and Eva Ensis came face to face for the final. Ensis had more variety in her tricks, landing a toe-side air gybe and a backwing 360. She took the win with this strong performance.

The mini final went to Olivia Piana, who had slightly more variety over her competitor Paula Novotna.

The Women's final result is:
1st Eva Nora
2nd Laura Rudolph
3rd Olivia Piana
4th Paula Novotna

The Wingfoil World Tour are very grateful to be here in Tarifa to host this final event of 2020.
"We feel very fortunate, given the current global situation, to be able to be here in Tarifa for this event. The conditions look very promising for the athletes to be able to perform the surf/freestyle category. This will really showcase what a unique sport wingfoiling is." Dani Jimenez, Head Judge.
Tomorrow the action continues with the Men's Division, with the first possible start at 10.30am